Because our 2022 Science Fair is all virtual, unlike in past years, you will not need to register in January to tell us you will be bringing a project to the Fair in February.
You will share your Science Fair project as a slideshow. Here is a link to a Google Slides template you can use to create your slideshow.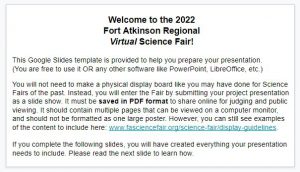 To enter your project in the 2022 Virtual Science Fair, you will need to follow the instructions in the template to save your slideshow as a PDF. Then you will upload it to the link that will be available right here on this page during the entry window period of 8:00 am Saturday, February 5, 2022 to 8:00 pm Wednesday, February 9, 2022. All project entries must be uploaded by the deadline of 8:00 pm February 9.
You may also choose to submit a link to a short (under 5 minutes) original video presentation about your project. If you share a video link, it will be available for public viewing along with your slideshow PDF starting on Saturday, February 19, 2022.