The deadline has passed for entering the 2022 Virtual Science Fair. However, you can access the template linked here at any time to begin planning your next science fair project. It will help you include everything you need for either a virtual fair slideshow or an in-person fair display.
Here is a link to a Google Slides template you can use to create your slideshow.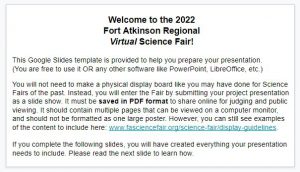 Follow the instructions in the template to save your slideshow as a PDF.