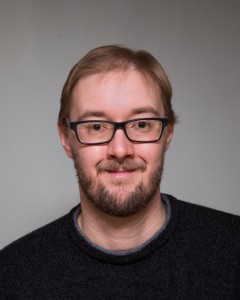 Ben Knowles has been involved with the Cassini mission to Saturn since 2002. As Calibration Engineer for the ISS Operations team, he performs the data reduction and image analysis required for calibrating the two ISS cameras, and develops and maintains the calibration software known as CISSCAL. As the ISS Archiving lead, he is responsible for archiving all of that instrument's image data and metadata with the Planetary Data System. He authored and maintains the ISS PDS Data User's Guide, a comprehensive handbook to the instrument, its data, and the algorithms and methods necessary for its calibration. He also co-administers the ISS uplink database, assists team members with observation planning and uplink, maintains the ISSPT camera commanding tool, which he helped to develop, and performs assorted image database processing tasks.
Ben received in M.S. in Astrophysics from the University of Colorado-Boulder, and a bachelor's degree from Vassar College in Poughkeepsie, NY. Prior to Cassini, his research interests included galactic structure and formation, cosmology, and optical and bolometric (sub-millimeter wavelength) instrumentation.
Ben lives in Fort Atkinson, WI, with his wife Diana and their daughter Adelyn. He currently serves as Treasurer on the Fort Atkinson School Board, and continues to help organize the Spring and Fall lecture series at the Fort Atkinson Club, a non-profit community center. Much of his free time is spent playing guitar in local bands Three Thin Dimes and Jill & the Jax, and at the weekly old-time and Irish jam sessions. Whenever possible, he enjoys hiking, biking, gardening, and photography.
Prior Honorees
1991 Art Waterman
1992 Albert Haller
1993 Richard Wanie
1994 Anne Griffiths, M.D.
1995 William David James
1996 Frank Haban
1997 Capt. Wilbur Sundt
1998 Dr. James & Sophia Majerus
1999 William D. Knox
2000 Paul Raasoch
2001 Leland Allenstein, DVM
2002 Helmut Ajango
2003 Dr. Kenneth Griffiths
2004 Gary Reuterskiold
2005 Frank & Shirley Stekel
2006 Dr. Russel Nord
2007 Dr. Fred Rose
2008 Richard Wanie
2009 Dr. Bob Benjamin
2010 Dr. Mary Linton
2011 Dr. Rex Hanger
2012 Dr. Thomas Nordland
2013 Dr. John Ejnik
2014 Dr. George Clokey
2015 Dr. Chris Veldkamp
2016 Dr. Dawn Belt-Davis
2017 Dr. Steven Sahyun