Congratulations to Chloe Barganz, whose artwork was selected for the 2023 Fort Atkinson Regional Science Fair t-shirt!
Chloe is a resident of Johnson Creek and a 9th grade student at Lakeside Lutheran High School in Lake Mills.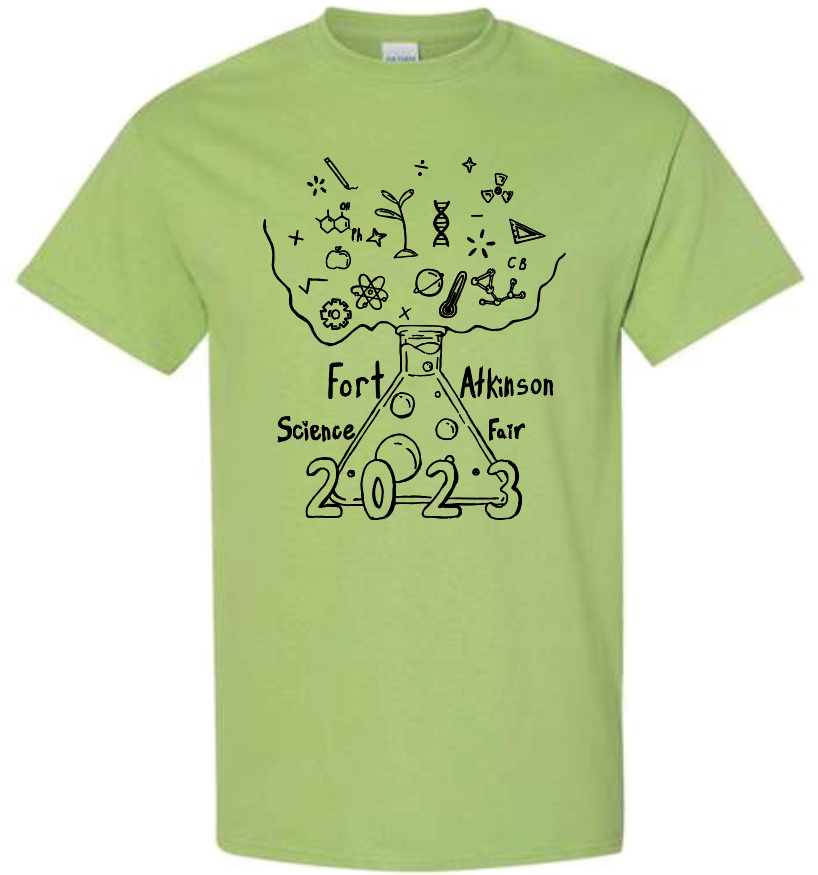 ---
T-Shirt design contest for the 2024 Science Fair:
One design will be selected and printed on each year's science fair t-shirts. This contest is open to any student living in and/or attending school in the school districts of Johnson Creek, Lake Mills, Jefferson, Cambridge, Milton, Fort Atkinson, Palmyra-Eagle, or Whitewater, Wisconsin. Students may submit more than one design, but each has to be on a separate sheet of paper. We reserve the right to slightly alter the chosen design if necessary. Designs will not be returned unless requested: please include a note with your submission if you would like your design returned.
Use this checklist as you draw or digitally create an original design with any science theme.
Use bold lines (not thin lines) in black ink on white paper. 

Design must be oriented vertically ("portrait," not "landscape"). 

Design must fit within 1″ margins on standard-sized 8 1/2″ x 11″ paper. 

Include "Fort Atkinson Science Fair" and "2024" in the design. 

Include your initials (not full name) somewhere in the design. 

Include a sticky note or separate page with your Name, Age, Address, Phone Number, School, and School District. 

Mail to FASF, PO Box 371, Fort Atkinson WI 53538 by Monday, January 8, 2024.
T-Shirt Designs From Past Years